About Therapy

Counselling supports clients in developing more insight into their thoughts, feelings and behaviour, within a therapeutic relationship - exploring issues, working with the client to understand themselves and become autonomous in their decision to either accept their way of being or work towards change in a safe environment with an awareness to the possible consequences.
Counselling aims to help people solve problems, alleviate psychological suffering and live more satisfying lives.
An introductory meeting will be arranged without obligation by either client or counsellor prior to counselling.
A counselling agreement will be discussed at the Introductory meeting and a counselling session is for one hour.
Counselling Service for:
Anxiety and Stress, Depression, Low self-esteem, Panic attacks, Loss & Bereavement, Relationship difficulties, Physical, emotional & sexual abuse, Work related issues, Anger management.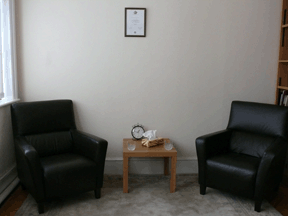 A therapy room provides a comfortable safe environment to explore your issues.
"Life's events can cause us to feel abandoned, isolated, anxious, angry, fearful, stressed or depressed."